Arctic Omega 3 Long Chain Natural Marine Oil Supplement for Pets

- Does your Pet show signs of stiff joints?

- Is your Pet not walking and/or running as they once did?

- Does your Pet shed and/or itch excessively

- Does your Pet have little stamina and/or endurance?

If you answered YES to any of these questions, most likely your pet is deficient in the Omega 3 Fatty Acids!

There has to be a balance of Omega 6 and Omega 3 Fatty Acids in our pet's diet in order to:

- reduce the risk of cancer, diabetes, and heart attacks

- increase vision and circulation

- control arthritis inflammation

- control allergies

- aid in digestion

- eliminate dry skin

- increase blood flow to tissues

- add luster and shine to our pet's coat

There is an excessive amount of Omega 6 in most pet foods today. This being said, I would like to introduce you to Arctic Omega. Arctic Omega is a unique 100% Natural Marine Oil Canine supplement. This formula's total Omega 3 Long Chain Polyunsaturated Fatty Acids (LC-PUFA's) is 21-25%, which increases the DHA, EPA, and DPA - with the optimum Omega 3/6 balance being 10-11:1

A growing body of research shows that Omega 3 (LC-PUFAs) provide our pets additional health benefits during certain life-stages or when they are suffering from certain diseases.

Omega 3 LC-PUFAs are "essential" fatty acids, which cannot be produced by the body, and must be obtained from another food source. If our pets are not getting adequate amounts of Omega 3 in their diet, it becomes necessary to find additional ways to supplement their diets - Arctic Omega is the Perfect Dietary Supplement!

The advantage of Arctic Omega 3 100% Natural Marine Oil canine supplement is that it can be added to our pet's food for overall health and the treatment of illnesses. Arctic Omega 3 has a relatively low, but important concentration of Omega 6 Fatty Acids. A small amount of Arctic Omega will adjust the Omega 6/3 ration in our pet's diet. Dogs & cats love the taste and benefits from these essential fatty acids at the same time.

More and more veterinarians are suggesting Omega 3 supplements for our pet's diet to:

- control imflammation

- ensure proper developement of the nervous system

- sharpen vision

- inhibit malignant cancer cells

- reduce the risk of diabetes

- positively affect the HDL and LDL ratios

- reduce platelet stickiness

- increase circulation

- reduce blood pressure

- slow cholesterol production

- reduce joint tenderness

- stimulate the immune system

- aid in digestion

- help with skin & coat maintenance

Copyright © 2009 Newfoundland Health Foods Corporation, all rights reserved

All material and information presented by Newfoundland Health Foods Corporation is intended to be used for educational purposes only. They are not intended to diagnose, treat, cure or prevent any condition or disease. Please consult with your own physician or health care practitioner regarding the suggestions and recommendations made at

Newfoundland Health Foods Corporation

$19.99  CAD

per bottle

+ shipping

100% Natural Marine Oil

Total Omega 3 Polyunsaturated Fatty Acid (PUFA): 21-25%

(inlcuding DHA, DPA, EPA)

Dr. Ho's Arctic Omega 3 Seal Oil for Pets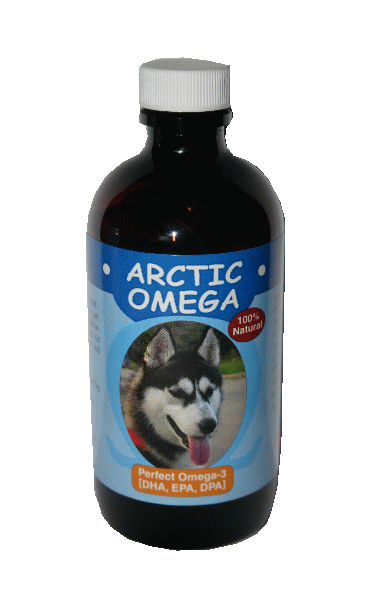 Dr. Cosmas Ho

M.D., C.C.F.P.